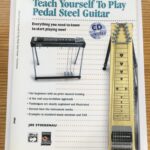 I wrote this book to help beginner pedal steel guitar players gain a good foundation and understanding of the basics of the instrument. Also, since many new pedal steel players are already guitar players, this book will be a great way to begin playing the pedal steel guitar.
In this 95 page book published by The National Guitar Workshop and Alfred Publishing we start at the beginning with detailed information on assembling your instrument, what picks and tone bar to use and how and where to place your hands on the strings. In addition there is a detailed section on how to tune the pedal steel and also how to tune the pedals and any knee levers you might have on your guitar.
There are loads of tunes and exercises for you to play to develop your left and right hand techniques. You will also learn how to make the classic pedal steel sounds by learning some licks, intros and endings to songs that steel players frequently use.
Also included is a CD of the exercises played slowly for you to play along and practice.
Click here to purchase your copy.